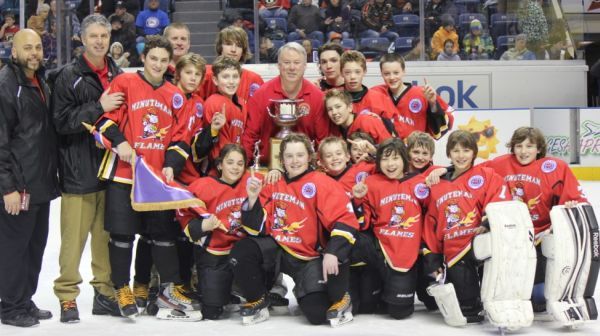 Minuteman Flames 2000 Win Prestigious International Tournament
MARLBORO, MA--The Minuteman Flames 2000 Team traveled to Quebec City from February 14th to February 24th to compete in the Tournois International De Hockey Pee-Wee de Quebec known throughout the world as the "Q". For the past 54 years, Quebec City has hosted the best teams from all over the world in a ten day tournament for 12 year olds, providing many of them with their first opportunity to showcase their talents on an international stage. This year's tournament saw 102 teams from 14 countries compete in Quebec City.
The Flames won 6 games in a row at the Pepsi Coliseum (Colisee Pepsi) to capture the title, playing in front of 1,500 fans at the beginning of the week, to over 10,000 in the quarterfinals, semifinals, and championship game. The final three games were televised in French and English on Canadian Television. This is only the second time in the 54 year history of the tournament that a New England Team has won the Elite Division of the tournament. The Flames beat the Detroit Red Wings, the National Finland Select team, the Quebec Eagles, the Burnaby Winter Club (the #1 Western Canadian Team 46-0-6), the Philadelphia Flyers, and the team's EHF rival Boston Jr. Eagles in the championship game.
In six games, the Flames scored 26 goals while only allowing 9. Three of the four tournament point leaders came from the Flames' roster — Jake Wise, TJ Walsh and Mark Gallant — with Jake Wise setting a new tournament record with 19 points in six games. Jake was honored with the Maurice Richard Trophy for his accomplishments. The team saw outstanding results from its other forwards — Christian Powers, Ian Carpentier, Brad Tripp, Nolan Moore, Patrick Borella and Noah Furman — who provided timely offense throughout the tournament. The team's defense — Cullen Young, Sam Rand, Jordon Harris, Alex Suny and Max O'Brien — were virtually impregnable, shutting down many of the world's best offensive players. The team's goaltending saw Connor Laurendeau open the tournament with a win and Jacob Perrin become the tournament's hot goalie, winning 5 in a row including posting a shutout in the finals.
Congratulations to the Minuteman Flames 2000 Team!!!