Players Needed
2010 AAA1 Team

Contact David Samara at 508-380-8385



Players and Goaltender Needed
2008 Squirt Minor AAA3 Team

Contact Bill Campbell at 774-364-0677



Players and Goaltender Needed
2009 Mite Major Division 2 (Tier 1)

Contact Steve Martin at 508-982-9555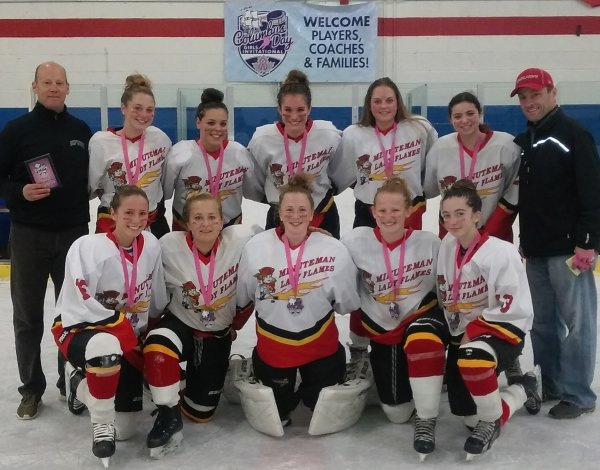 Congratulations to the Lady Flames U16 Team on Winning the Columbus Day Girls Invitational Tournament hosted by the Sting!! They won all five games, scoring 20 goals while allowing 2.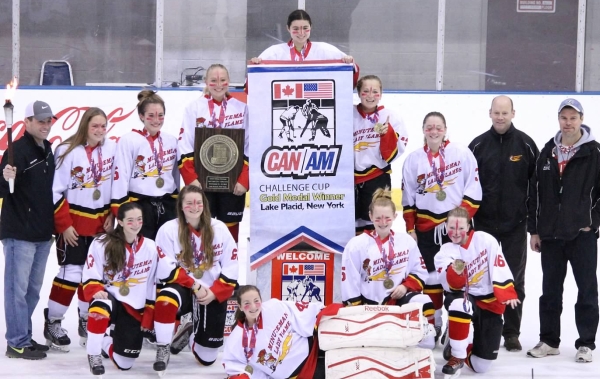 Congratulations To The Lady Flames U14 Major Team On Winning Lake Placid Championship!
The Lady Flames U14 Major Team traveled to the CAN AM Challenge Cup Tournament in Lake Placid on November 13th to face the Potsdam Icestorm, the CNY Bobcats and the Clarington Flames, and came away with the gold. The team went 4-0-1 in the tournament, scoring 19 goals and allowing 5. They tied the Icestorm, 1-1, in the round robin, and won the championship game against the Icestorm by a score of 2-1.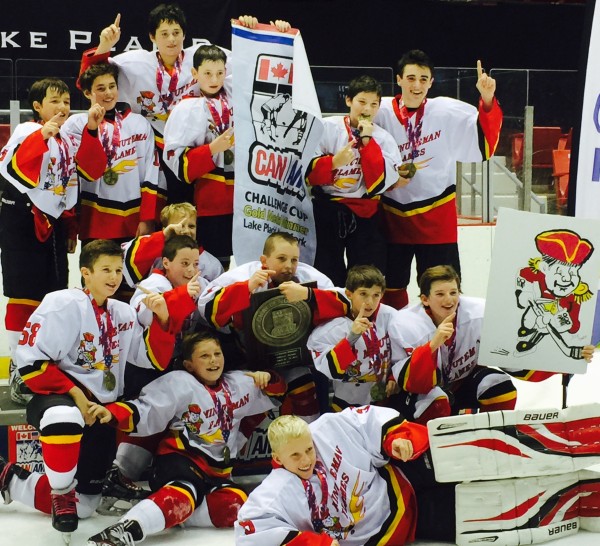 '03 Elites win Lake Placid championship!
The Minutemen Flames '03 Elites traveled to Lake Placid on October 23 and came away with the championship. The team went 5-0 for the weekend and gave up only four goals. The Flames needed only their first shift in overtime in the championship game before they found the back of the net to secure a 2-1 Gold Medal win over the New Hampshire Avalanche.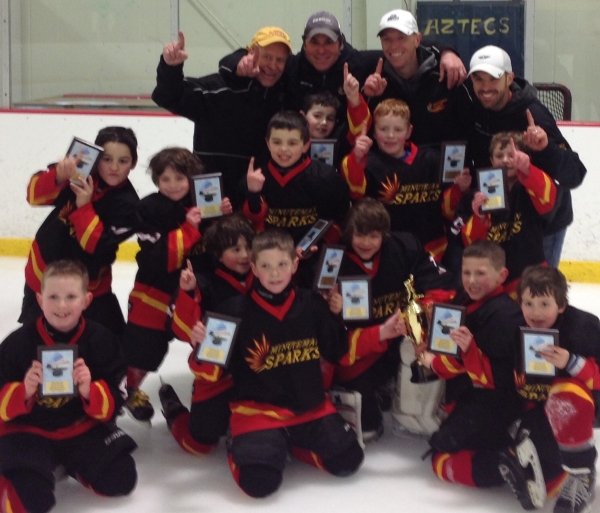 Sparks AAA 1 Mite Minor Team Wins Presidents' Day Tournament!
Congratulations to the Minuteman Sparks 2007 Mite Minor AAA Division 1 Team on winning the Presidents' Day Mite Invitational Tournament! The Sparks scored 6 goals in the championship game, defeating the South Shore Knights, 6-4. The Sparks scored 20 goals and allowed 10 in the tournament, with 4 wins and 1 loss. The only loss was a 2-4 decision to the Knights in the round robin. The Sparks players are Alex Tarves, James Connor, Mick Mc Manus, Brian Bernier, Ben Kramer, Ben Janoski, Luke Tuttle, Matthew Trotto, Markas Petone, Chase Parsons, Ricky Nashawaty and Jacob Selby. They are coached by Tony Petone, and his assistant coaches; Shane Selby, Shaun Tarves and Ryan Tuttle.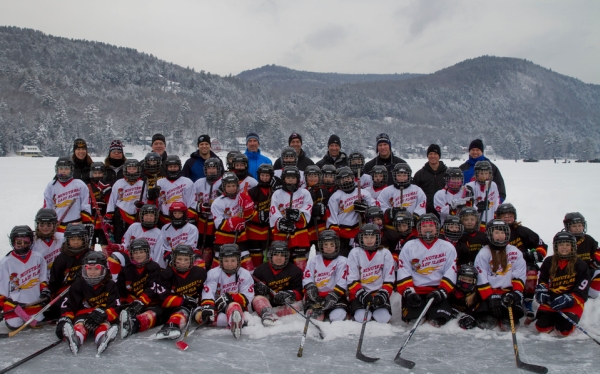 Four of the Lady Flames teams, from U8 to U12 had a hockey experience this past weekend that they and their families will remember the rest of their lives... participating in the New England Pond Hockey Jamboree at the Lake Morey Resort in Fairlee, VT.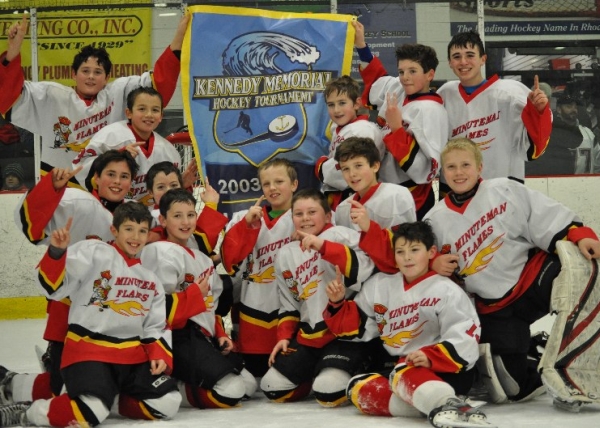 Congratulations to the 2003 AAA Elite Flames
on winning the JWK Elite Championship!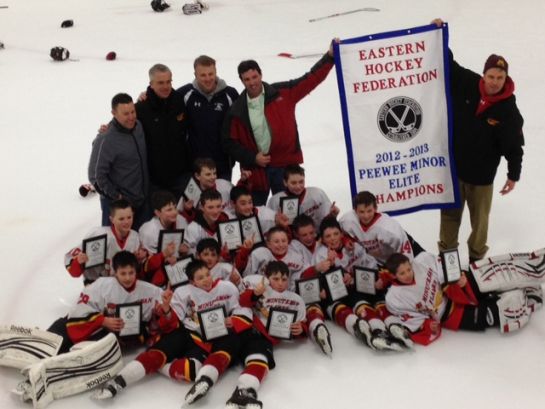 '01 Elite Flames Finish Undefeated Season at 2013 EHF Championships
MARLBORO, MA--As the puck rolled down the ice into the empty net with 4.6 seconds remaining on the clock, the 2001 Elite Minuteman Flames cemented one of the most incredible seasons in recent memory. With the 5-3 win over league-rival, the #5 U. S. ranked South Shore Kings, the Flames had won the EHF Playoffs and finished the season with an overall record of 68-0-6, and a league record of 44-0-2..... more...

Introducing The Minuteman Flames

The Minuteman Flames Minor Hockey Association is one of the largest and most competitive Elite and AAA Programs in New England. The Minuteman Flames will be participating in the following leagues this season (2013-2014):
Eastern Hockey Federation (EHF)... Boys Elite and AAA Division 1
New England Girls Hockey League (NEGHL)... Girls
Eastern Minor Hockey League (EMHL)... Boys AAA Division 2
The Minuteman Flames practice and play their home games at the New England Sports Center, a state-of-the-art facility with six NCAA Regulation surfaces centrally located in New England.

The program offers an active practice and game schedule, typically two games on the weekend and two full-sheet 80 minute practices per week on a set schedule. Skills sessions are also available from Victor Teleguine, the Boston Bruins Skills Coach, and Stop It Goaltending as an integral part of the program.

This season, the Minuteman Flames will have 30 teams, including 22 boys' teams and 8 Lady Flames teams. The Minuteman Flames Program has a competent, experienced coaching staff dedicated to making the youth hockey experience one that is fun, while building character and proficiency in the sport.

The Minuteman Flames also conducts two Cross Ice Programs, one for boys and one for girls, known as the Sparks Programs. These are learn-to-skate/learn-to-play-hockey programs for 5 and 6 year old players on Sunday mornings during the season to prepare young players for their future youth hockey careers.

The season begins in early September and continues through late March at the boys Squirt Minor through Bantam Major levels, and at the girls U10 through U14 levels. Pre-high school teams are formed at the boys Bantam Major, Midget Minor and Midget Major levels, and at the girls U16 and U19 age levels.

The Elite player fee for the upcoming season will be $2,600 for full time players on full season teams from Squirt to Bantam Minor. This player fee includes two 80 minute practices per week, a 32 to 36 game (15 minute periods) league schedule, insurance, EHF League fees, USA Hockey Club Team fees, socks, and two preseason practices in the July/August timeframe. Comparable fees will apply for the other teams based upon their variation in ice use. If the player participates in the additional skills sessions, there is an additional associated charge.

The Minuteman Flames Teams also participate in tournaments, typically including several tournaments at the New England Sports Center... notably the New England Summer Championships in August, the EHF Columbus Day Invitational in October, the New England Winter Championships in December, and the Minuteman Flames Spring Classic Tournament in April.

The Minuteman Flames alumni continue to achieve well beyond the youth level, as illustrated by the Minuteman Flames Hall of Fames and our Alumni page. Many of the Flames alumni have gone on to play for Division I, II, and III colleges. Some have advanced to the AHL, NHL and Olympics, including Mike Greer, who recently retired from the Buffalo Sabres after a long and highly successful NHL career, playing in 1,060 NHL games; Tara Mounsey, a Brown University and USA Woman's Olympic Team Star; Bobby Butler, a Marlborough resident, who now plays for the Nashville Predators; and Bill Arnold, presently with the Boston College Eagles, who scored the winning goal in overtime to defeat Boston University in the 2012 Beanpot Championship Game and was a key player, with a goal and an assist, in the 6-3 win over Northeastern University in the 2013 Beanpot Championship Game.

If you are interested in playing on one of the Minuteman Flames teams, please contact the coach, listed on our Coaches Page, or contact:

Larue Renfroe, Director 978-369-8848 (day) or 978-505-5810 (night)

Wes Tuttle, Alternate Director 508-229-2700 (day) or 978-423-8085 (night)
Important Announcement

To Prospective Minuteman Flames Players and Parents:
This is an exciting time for competitive Hockey in New England, with tryouts for the Eastern Hockey Federation (EHF), the Eastern Minor Hockey League (EMHL) and the New England Girls Hockey Association (NEGHL) just weeks away. The Charters of the EHF, EMHL and NEGHL are to develop the hockey skills and knowledge of those players, coaches, managers, and officials who participate, and to foster the development of good character, citizenship, and sportsmanship in every individual associated with the league.

The Minuteman Flames is proud to be a member of the EHF, EMHL and NEGHL because of the commitment shown by the directors of the member organizations to put the development of the players' hockey skills, sportsmanship and overall character first, and to eliminate the factors that detract from these objectives.

For the present Minuteman Flames families, the Minuteman Flames Program has meant the best hockey value in New England, the most consistent ice times in one of the nicest facilities around, better competition, a better relationship with the opposing teams and organizations, and more consistent rules enforcement... in summary, a better hockey and character development environment.

For those trying out for the Minuteman Flames for the first time, being selected as a Minuteman Flames player means all of the above, giving you one of the best hockey experiences there is.

See you at tryouts!

Larue Renfroe
President
Minuteman Flames Minor Hockey Association